Kinematic Self-Replicating Machines
April 9, 2009
Author:
Publisher:

Landes Bioscience (10/30/2004)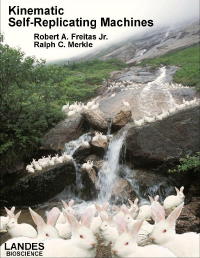 This book offers a general review of the voluminous theoretical and experimental literature pertaining to physical self-replicating systems and self-replication. The principal focus here is on self-replicating machine systems. Most importantly, we are concerned with kinematic self-replicating machines: systems in which actual physical objects, not mere patterns of information, undertake their own replication.
Following a brief burst of activity in the 1950s and 1980s, the field of kinematic replicating systems design received new interest in the 1990s with the emerging recognition of the feasibility of molecular nanotechnology.
The field has experienced a renaissance of research activity since 1999 as researchers have come to recognize that replicating systems are simple enough to permit experimental laboratory demonstrations of working devices. — Molecular Assembler  www.molecularassembler.com/KSRM.htm