Fujitsu announces Linux-based humanoid robot
September 19, 2001 | Source: KurzweilAI
Fujitsu has developed a miniature humanoid robot named HOAP-1 (Humanoid for Open Architecture Platform), designed for wide application in research and development of robotic technologies, the company announced at the Robotics Society of Japan meeting on September 18.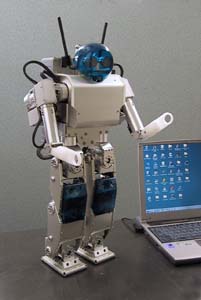 Weighing 6kg and standing 48cm tall, the HOAP-1 and accompanying simulation software can be used for developing motion control algorithms for two-legged walking and in research on human-to-robot communication interfaces.
Fujitsu is disclosing the internal interface architecture of HOAP-1 to allow users to develop their own programs. The basic simulation software and user-developed programs are designed to run on RT-Linux on a PC, which communicates with the robot through a USB interface.